"Greetings to all parents and parishioners. May the peace of God be with you and your families. You are always welcome to visit our church".
Father Fretch Ballesteros is our priest at Holy Family Church in Small Heath. The parish was founded in 1901. The school was built in 1903 and the church in 1928. In 1966 the church was extended.
Saturday Mass and Holy Hour: 4.00pm
Saturday Confessions: 11.00am to 12.00 noon
Sunday Confessions: 4.30pm to 5.00pm
Sunday Morning Mass: 10.30am
Sunday Evening Mass: 5.15pm
Church address:
763 Coventry Road
Small Heath
Birmingham
B10 0HT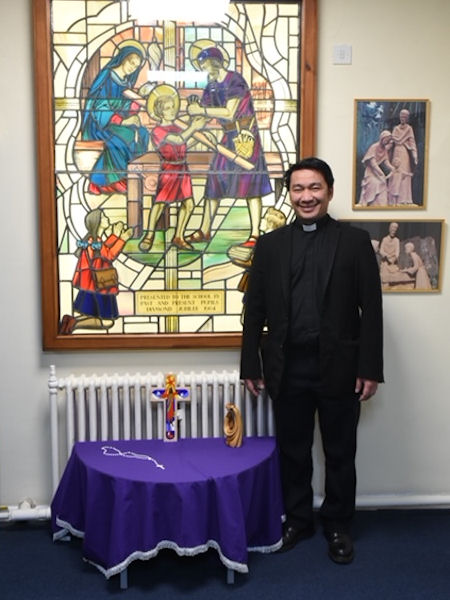 School and Church
We follow the curriculum strategy for Religious Education in the Catholic Primary Schools of the Archdiocese of Birmingham; Learning and Growing as the People of God. It makes learning about our faith lively, interactive and relevant.
The children at Holy Family School attend and lead Mass on a regular basis.
The church is also used when looking at religious artefacts as part of our lessons. There are numerous opportunities for cross curricular activities that link with and often stem from RE lessons.
A history of The Parish of Holy Family Church in Small Heath, by Father Tony, our previous Parish Priest:
"In the 40s, 50s and 60s, there was great immigration from Ireland. The local population used to say that they're either coming out the Blues ground or Holy Family Church. And so the priest, Father O'Keefe in 1966 extended the church, and that's why it is so big now. And in that period too a second school was built on Hob Moor Road, which served the Irish community. There wasn't enough room in the little school here. They used to St Benedict's Church of England School for some of the children because of the enormous numbers of people.
So really, the Irish roots, the drawn of course by the local industry. There was the BSA of course, Birmingham Small Arms; then the Chrysler Factory, wherever you got factories you got workers, building was another thing that was happening; JJ Gallagher who recently sold up his property, just off Green Lane, he employed a lot of the Irish workers. And the current constituency is that generation of Irish – many of whom have retired, [while] some of have gone back to Ireland. Some have moved to more prosperous areas in Birmingham.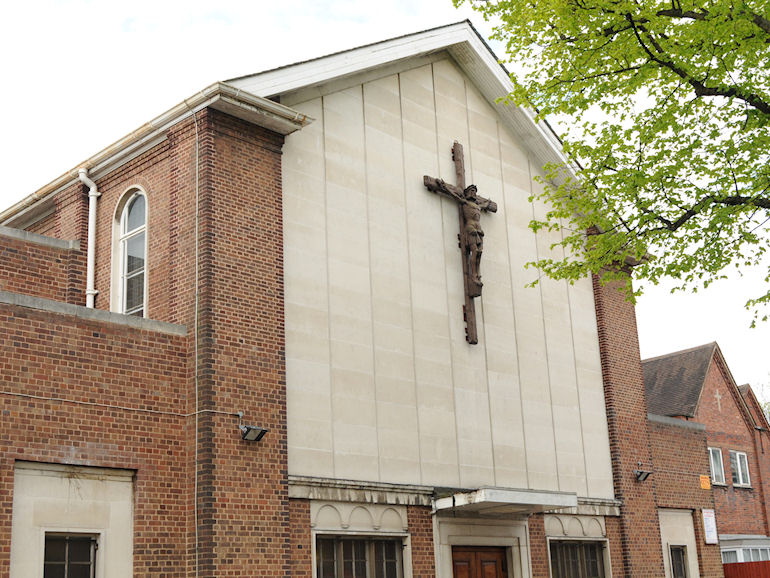 Holy Family Church, Small Heath
But this really is an immigration parish, because since that time, though there are some Irish still here, the Asian community have moved in. And people might initially think that'll just be Muslims, indeed, there is a huge Muslim community in Small Heath, there's 26 mosques in the area, I've visited a couple myself, but there is also an Asian contingent of Catholics from Kerala, from Southern India, as well as Philippinos who came over, they moved into the area. They're mainly in the Healthcare sector, as many of the Asians to a large extent.
So the parish has become a bit of a multi-cultural parish; there are also Africans who come here; and increasingly it's going to become a much more mixed parish. And the aspiration I suppose is trying to blend those people together and if people can see this as a symbol of people living cohesively, then the parish has that role in the community.
It's reinforced in the schools; we have quite a number of Muslim children in the little school of the Holy Family, because demographically that's where the Muslims live; and they come along, and again, the children share in the prayers. They get on well. The mission is really to be a presence here; a catholic presence; to draw people together – it'll be a shrinking presence to some extent, because the old community is dying off. But hopefully, the blend of the different peoples will make the community a richer place."